ADAM Yorkshire Members Meeting 26th September 2018
ADAM Yorkshire Regional Meeting on Wednesday 26th September 2018 , 10am til 1pm at the Isopharm building, 18 Jessops Riverside, 800 Brightside Lane, Sheffield, S9 2RX.
Our speakers will be Paul Whiteside who is the Customer Liaison Manager for Dental Services who will be answering our questions about Compass and also Isopharm who will be talking about their CPD program/training compliance.
Places are limited and will be allocated on a first come, first served basis.
Free to ADAM members and £25.00 for non members.
Please contact Julia on julia.cdc97@gmail.com or Angela on kpdental@hotmail.co.uk to book your member place or book your non member place via the Eventbrite link HERE
ADAM Cornwall Members Meeting 17th October 2018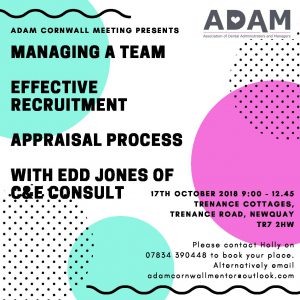 CODE 

CODE