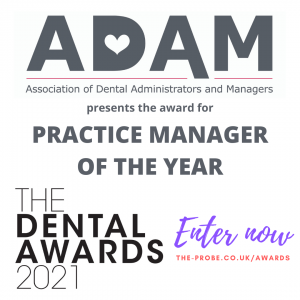 The Practice Manager of the Year Award at the 2021 Dental Awards, the original and most respected awards programme in UK dentistry, has gained added prestige as it will now be presented by ADAM (The Association of Dental Administrators and Managers).
The Practice Manager of the Year Award is open for entries to all practice managers, regardless of their status as an ADAM member. For an entry brochure, visit https://the-probe.co.uk/awards/the-dental-awards-2021/.
The entry deadline is 28th February 2021.
Lisa Bainham, ADAM President, commented: "The Dental Awards are a great way to recognise and celebrate individual and team achievements. I, myself, am honoured to have received several accolades during my career in dentistry, and The Dental Awards truly inspire and give you the confidence to become the very best you can in your field. The recognition provides reassurance to your teams and patients of your standards.
"I would recommend entering the awards to anyone who goes above and beyond in the dental field, they deserve to have their dedication awarded and recognised. It is an honour for me to have judged these awards for the last few years and would urge individuals and practices to stand up and be counted, for increased team morale and much more."
"Over the course of more than two decades, The Dental Awards has established itself as the most highly regarded awards honour in the profession," said James Cooke, managing editor of the dental portfolio at Purple Media Solutions, including The Probe. "It is with great excitement that we announce a new partnership with ADAM that will see the Practice Manager of the Year Award held in even higher esteem.
"While we highly encourage Practice Managers to stand up and be counted for the tireless work they've put in over the course of an extremely challenging year, don't forget that you can also ensure other members of your team – or even your entire practice – can be nominated for recognition in their own respective categories."
ADAM provides its member Practice Managers with tailored advice, access to management development and regional events at preferential rates, free legal consultation, access to industry pay scales and more. For further information, visit https://www.adam-aspire.co.uk/.
2021 marks the 22nd edition of the Dental Awards. Over the years, this prestigious event has recognised the outstanding individuals and teams whose commitment and drive continues to raise standards throughout the UK dentistry profession.
The Dental Awards is supported by the UK's leading dental magazine publisher, Purple Media Solutions, and is unquestionably the premier awards programme for UK dentistry.
Winning or being a finalist is a tremendous accolade and provides a massive publicity boost to the profile of your practice and your team. After all, who wouldn't want to be treated by the Dentist or the Dental Team of the Year?
For more information, call 01732 371570 or contact awards@purplems.com.