Group Captain Mark Richardson, Vice-Dean of the Faculty of General Dental Practice UK (FGDP(UK)), has been appointed Her Majesty The Queen's Honorary Dental Surgeon.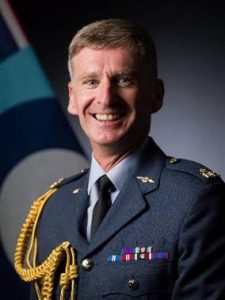 The honour follows his recent promotion to Chief Dental Officer of the Royal Air Force (RAF), and caps off a successful year in which he was also elected to the Faculty Vice-Deanship. Two Queen's Honorary Dental Surgeons are appointed from each of the three Armed Services, and while the role is honorary, they assume responsibility, on a rotation with the Queen's Honorary Surgeons, Physicians and Nurses, for medical arrangements at Investitures at Buckingham Palace, Windsor Castle or the Palace of Holyroodhouse.
Mark joined the RAF in 1989 shortly after graduating from Dundee University, and has served as a dental officer in Afghanistan, Europe, the Far East and the UK. Based in Tidworth, Wiltshire, he is currently the Armed Forces' Principal Dental Officer for Wessex Region, responsible for clinical delivery, governance and quality assurance across 16 tri-service dental centres which look after the oral health of around 30,000 service personnel. He is also the Armed Forces' Clinical Adviser on Paedodontic Dentistry, in which he holds an MSc.
A holder of FGDP(UK)'s MGDS qualification, he became an examiner for the MFGDP in 2007 and then a Core Group MJDF examiner in 2013. He has been the elected Board Member for the Wessex and Oxford region since 2016, and is also a Facilitator for FGDP(UK) Fellowship.
He is also a Fellow both of the Faculty of Dental Surgery of the Royal College of Physicians and Surgeons of Glasgow, and of the Faculty of Dental Trainers at the Royal College of Surgeons of Edinburgh, where he recently became an examiner for the Membership in Advanced General Dental Surgery. He also holds an MSc in Medical Education and is a CQC Specialist Advisor.
On his new appointments, Group Captain Richardson commented:
"I feel very honoured and humbled to have been appointed Queen's Honorary Dental Surgeon, and to have been chosen to be the Chief Dental Officer of the RAF. This represents the pinnacle of my military career."    
Ian Mills, Dean of FGDP(UK), said:
"On behalf of all members of the Faculty, I congratulate Mark on this significant achievement and career milestone. We are privileged to benefit from his immense knowledge and wide experience."
Sara Hurley, the Chief Dental Officer for England, added:
"Mark's appointments as CDO (RAF) and Queen's Honorary Dental Surgeon are fitting recognition for a career dedicated to the delivery of exceptional care for an exceptional patient population, as well as his broader contribution to continuing excellence in training".